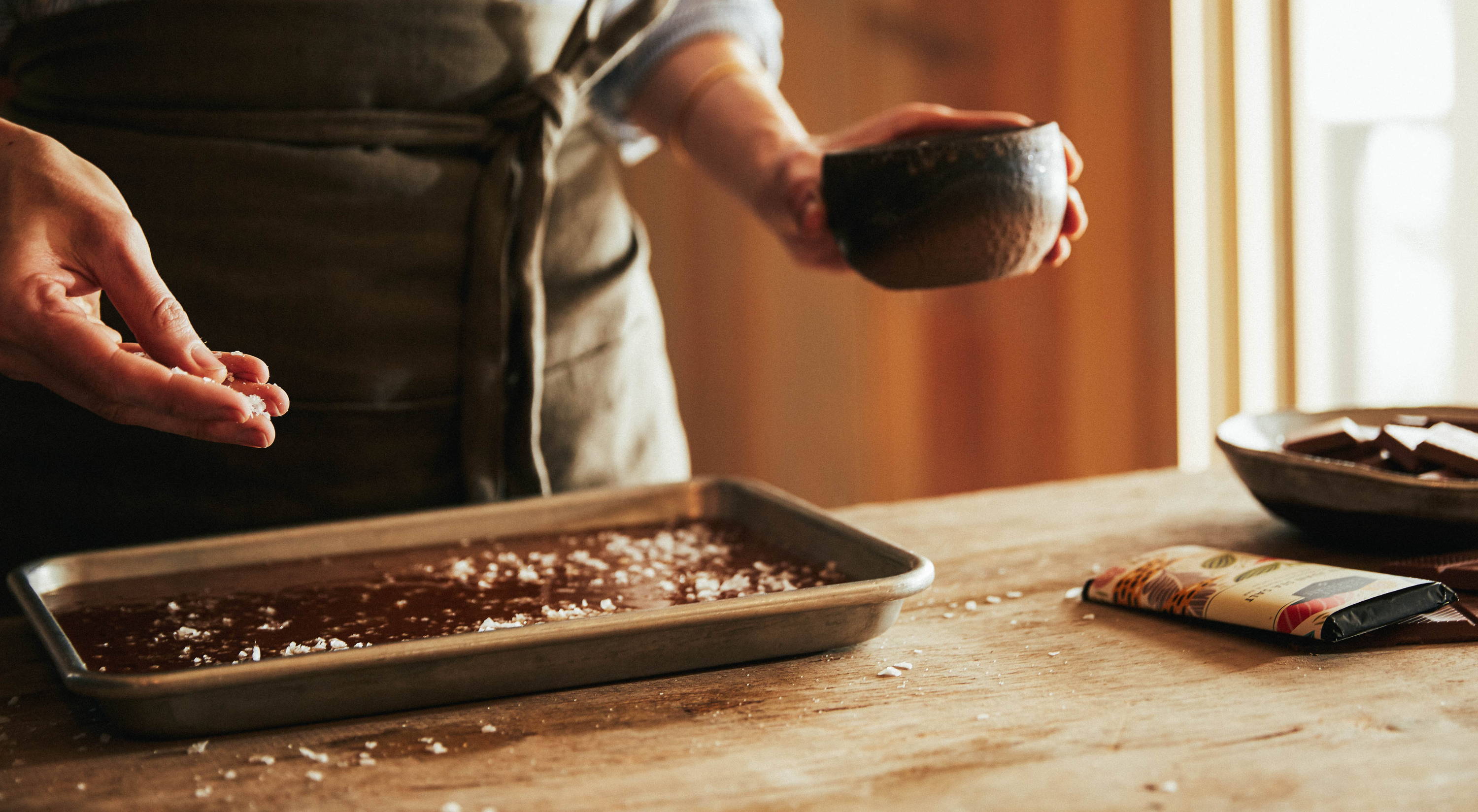 Frequently Asked Questions
Click on a topic below for some of our most frequently asked questions!
How should I store my chocolate?
We recommend storing our chocolate in a cool, dry place. The ideal storage temperature is 55-70 degrees F. Be sure you don't store your chocolate in your refrigerator! Much like baking soda, chocolate is susceptible to absorbing unwanted odors. Being exposed to cold temperatures for too long can also cause your chocolate to bloom.
Blooming is a process where the fats and sugars of the chocolate re-solidify, and become visible on the outer surface of the chocolate shell. This appears as discoloration, or a dusted texture on the outside of the item. While this does not affect the flavor of the chocolate, it can look somewhat unappealing.
What is the shelf life of your chocolate?
Our chocolates have a shelf life ranging from 15 minutes to more than 12 months depending on your personal resolve and self-control.
INGREDIENTS & CERTIFICATIONS
Do we use soy in our chocolate?
We use soy lecithin as an emulsifier to control the viscosity and keep our chocolate nice & smooth. The soy lecithin we use is organic and from non-GMO sources. If you prefer to avoid soy altogether, we recommend trying our 72% Dark Origin Bar, or jcoco's 80% Matagalpa bar which use sunflower lecithin instead!
Is your chocolate gluten free?
Our entire everyday line of truffles and truffle bars are Gluten free per FDA guidelines. We do use the same machines for making chocolate items containing gluten as those without gluten, however, after each run of product with gluten, we thoroughly clean the machines and conduct tests that detect the presence of gluten.
Is your chocolate Kosher?
All of our products are certified Star-D Dairy Kosher.
Why are your vegan chocolates certified Kosher?
Kosher Dairy is one kosher certification of all our products and they are made in the same equipment as milk containing chocolates (we do have a cleaning program after milk containing products are run), hence the label specifies Dairy Kosher, even though the vegan products do not have dairy ingredients.
Are your ingredients non-GMO?
We are 100% non-GMO ingredients in our core line of Seattle Chocolates bars and truffles. Each bar includes information on the back that lists non-GMO, Gluten-free, vegan etc.
Are your chocolates made with natural ingredients?
Yes, our products are made using ingredients from natural sources. We do not use or add any GMOs, preservatives, artificial or synthetic ingredients, flavors or colors.
Does Seattle Chocolate have a store?
As a matter of fact, we have two! Visit our Where-To-Buy page for more information about the Seattle Chocolate Factory & Flagship Store, and our SeaTac Airport Store location.
Where else can I buy Seattle Chocolate?
Where else can I buy jcoco?
Do you have any discounts right now?
To be the first to find out about promotions is to sign up for our e-newsletter at www.seattlechocolate.com. We also post flash sales and promotions on our social media channels so please check back regularly!
My order is a gift! I don't want the invoice to be sent with the order!
Our orders are shipped out with copies of their pick list. This includes all of the order's information (order number, date placed, items ordered etc.), however, this does not include any sort of price or total. This is also where gift messages are printed for the recipient.
Can I include a gift message with my order?
When placing your order, there is an opportunity to include a gift message while on the shopping cart screen. Be sure to include your name in the body of the message, as the billing address does not display on the packing list.
What forms of payment do you accept online?
We accept all major credit cards.
Can I order a customized wedding favor or corporate gift?
We create custom chocolate favors boxes for those looking to color coordinate for a special occasion. Choose any of our colorful truffles and a satin ribbon to compliment your colors. Minimum order: 25 favors. Please allow 1-2 weeks for order fulfillment prior to shipment. We also offer a corporate gift program, capable of addressing all your gift needs. For more information on corporate gift, please email us at concierge@seattlechocolates.com
Do you offer special pricing for bulk orders?
We offer the following volume discounts:
5% off orders $500- $999
10% off orders $1,000 - $2,499
15% off orders $2,500+
Your shopping cart will automatically apply these discounts when the appropriate amount, excluding shipping, has been reached. *Cannot be combined with other offers*
What are your shipping Rates?
Why is shipping so expensive?
We appreciate that shipping expenses can add up these days. We try to provide our customers with the most affordable shipping rates available, for the best possible quality of service and speed. Since we are shipping chocolate, which is temperature sensitive, we sometimes have to take extra care to make sure your order arrives to you in the best possible condition. Your final shipping total is the result of all of these considerations.
How do you ship chocolate in warm weather?
During the summer months, or as the weather requires, we may need to wrap our chocolate in dry ice and gel packs to ensure the safety of your shipment.
Please make sure that you, or the lucky recipient, will be available at the specified shipping address when the goodies are expected to arrive. We don't want melted chocolate on your doorstep!
We may not ship a package on Thursday or Friday to avoid our chocolate melting over the weekend. Please see the timelines in the above FedEx Shipping section for further details.
Why can't I ship standard shipping?
We check weather conditions for every destination to ensure your chocolate arrives in tip-top condition. Chocolate is very sensitive to warm temperatures, so in warm areas and during warm months, we pack with gel packs and dry ice and ship 2-3 day to make sure your package arrives safely. We are unable to ship ground to most states during the warmer months. Please note, unless your package is taking a short trip around the Pacific Northwest, we typically ship ground Monday-Wednesday only to ensure your chocolate isn't sitting unattended over a weekend. We don't want it to melt on you!
Warm Weather: We may not ship a package on Thursday or Friday to avoid our chocolate melting over the weekend. Please see the timelines below for further details.
Large/Special Orders:All online orders totaling $1,000 or more require a two-week processing time before shipping Please feel free to contact us at info@seattlechocolate.com with any questions.
Ground: Place your order before 11am PST Monday-Wednesday (except for holidays) and we'll ship in 1-2 business days, to arrive 3-7 business days after order placement. Orders placed after 11am Wednesday will ship the following Monday.
2-Day: Place your order before 11am PST Monday-Wednesday (except for holidays) and we'll ship in 1-2 business days, to arrive 3-4 business days after order placement. Orders placed after 11am Wednesday will ship the following Monday.
Overnight: Place your order before 11am PST Monday-Thursday (except for holidays) and we'll ship in 1-2 business days, to arrive 2-3 business days after order placement. Orders placed after 11am Thursday will ship the following Monday.
Do you ship to P.O. Boxes?
No, unfortunately we cannot ship to P.O. Box or APO/FPO addresses.
Do you ship internationally?
Unfortunately, we do not have the capability to make deliveries outside of the U.S. and Canada, or charge credit cards with international addresses.
Each tour lasts approximately fifty minutes. This allows plenty of time for asking questions and tasting chocolate!
How many People in each tour?
Each tour accommodates up to 16 people. If you're interested in booking a tour for a larger group, please give us a ring at (425) 264-2705.
What should I wear to the tour?
There is a fair amount of walking involved during our guided tour. Stairs up to the viewing platform and walkway may pose a difficulty to persons with mobility restrictions. We recommend comfortable walking shoes and no dangling jewelry. Because we are a food plant, you will also be given a hairnet to wear inside the factory. The temperature in the warehouse is a little chilly. You may consider bringing a sweater or light jacket.
Can I take my cell phone and personal belongings on the tour?
Each guest will be given a locker to stow their personal belongings, including cell phones, before embarking on the factory portion of the tour.
There is plenty of free parking here at the factory and across the street.
How far in advance do I need to book a tour?
Reservations may be make up to 90 days in advance. Make your reservation online here to guarantee the time and day you wish to visit. We recommend booking your tour 2-3 weeks in advance for weekends and holidays. However, we do hold a few spots for same day, walk-in reservations. If you need assistance, please contact us at (425) 264-2705.
You are welcome to take as many photos and videos as you like in the retail area and classrooms. Because glass is strictly prohibited in our food plant, cell phones and cameras are not permitted on the walkway. You will be assigned a locker with a personal number code to stow your items safely while you are on the tour.
Do you have accommodations for persons with wheelchairs?
We do! Because tours are conducted during production, we can accommodate only one wheelchair (plus companion) or other mobility restriction at a time. Please contact us at (425) 264-2705 or tours@seattlechocolates.com to schedule your visit.
How does Seattle Chocolate Company give back to the community?
Our greatest joy at Seattle Chocolates is connecting with people through our chocolate. Through that joy, we have also come to connect with our community on a deeper level.
We were inspired by this when we came up with our giving mission – to make fresh food available to American families and provide much needed assistance to local food banks. Sometimes, we roll up our sleeves and help at the food bank or the soup kitchen, and always we give a donation to help fund the purchasing of fresh food.
To honor our mission to end hunger here in the US, our donations are focused solely on organizations who share our goal to fight hunger. For example, for every bar of jcoco chocolate sold, one such serving is donated to Northwest Harvest, Food Bank for New York or Food Bank of San Francisco and Marin County. Both Seattle Chocolate and jcoco product lines are also included in our annual #chocolategives campaign to drive additional servings donations at the busy holiday season.
Can I make a donation request?
To honor our mission to end hunger here in the US, our donations are focused solely on organizations who share our goal to fight hunger. Non-profit organizations with 501(c)(3) tax-exempt status are able to purchase our products at a discounted price for fundraising purposes. For more information, email us at donations@seattlechocolate.com.
Didn't see your question answered here? Ask us below!
Thank you! We'll do our best to get back to you within 1 business day.
This field is required
This field is required
This field is required