Say hello to summer with our new ice cream-inspired collection.
Inspired by the flavors of nostalgic ice cream treats and carefree summers, these bright new chocolate bars and truffles make it hard to tell the difference from the real thing. Using 100% plant-based colors, our delightful new summer chocolates look and taste like your favorite ice cream treats from summers past and present. The equally vibrant packaging is designed by this summer's hottest artist, Kendra Dandy. Good mood made.
Did you know that each of our bars is made up of three s-e-p-a-r-a-t-e layers of chocolate? With a creamy meltaway center created by adding drop of coconut oil? Taste AND see each layer in our new Neapolitan truffle bar, featuring a dark chocolate top, white chocolate bottom and raspberry and strawberry blend chocolate center. The "two-bite" truffles have even more of that delicious melt-in-your-mouth chocolate center, enrobed in solid chocolate so that each bite is a taste explosion. Hold the cone.
Meet Three new ice cream-inspired chocolate truffles dressed up in cheeky, pint-size packaging.
VANILLA ORANGE CREAM
Inspired by every kid's favorite frozen treat, this tangy truffle delivers a magical combination of citrus and vanilla. Naturally tinted (with annatto seeds) orange chocolate covers creamy white chocolate blended with orange oil. We double-dare you to resist!
MALTED MILK BALL
Just like you remember, we've recreated the taste experience of chocolate malt. Sweet-and-salty, this chocolate truffle is loaded with crunchy malted bits beneath a layer of our signature milk chocolate. Try and stop at just one.
MINT CHIP ICE CREAM
The planet's most popular ice cream gets our meltaway treatment! Micro chocolate chips and double-distilled peppermint oil are swirled in a green chocolate center and wrapped in a rich, 60% dark chocolate shell. Yes, please.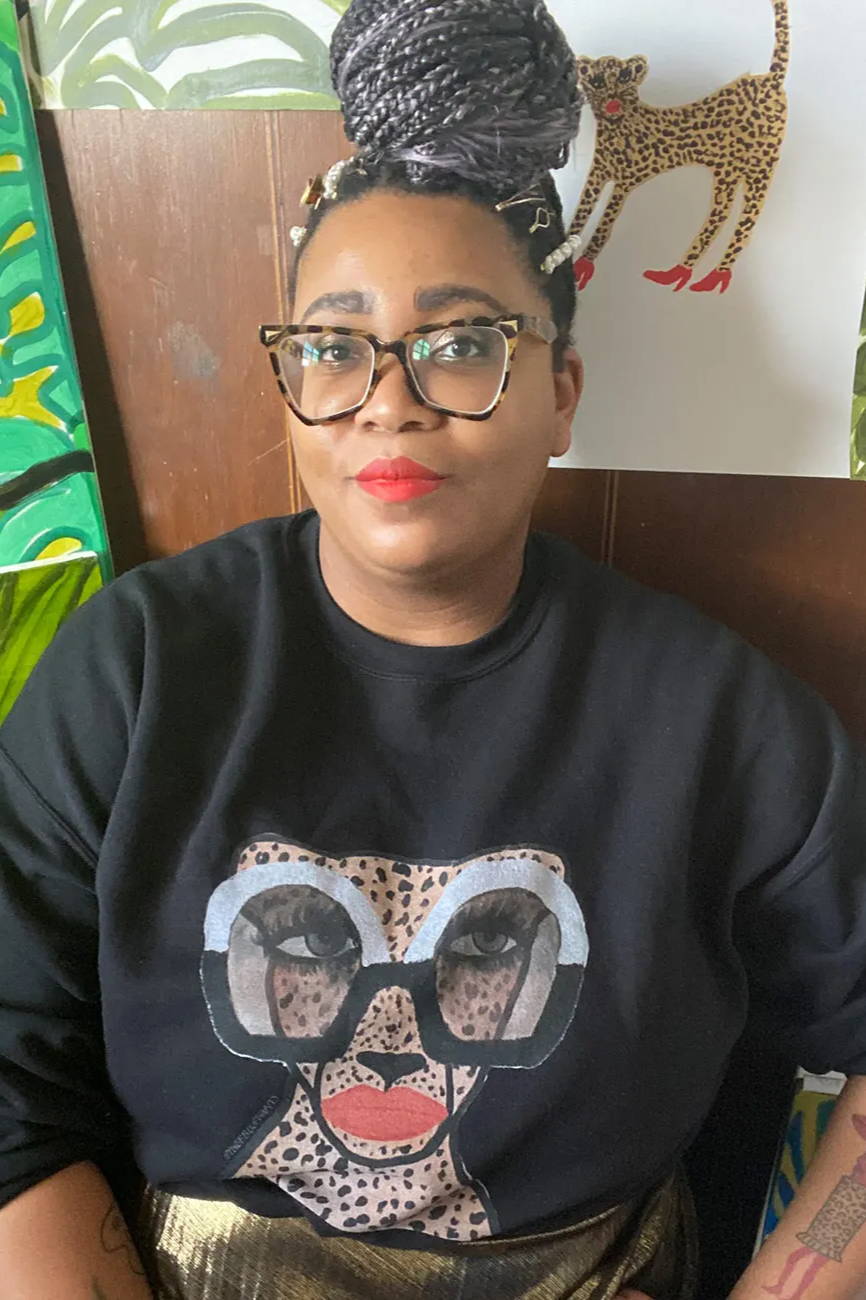 Based in Philadelphia, Kendra Dandy is known for creating colorful illustrations, cheeky, smile-inducing patterns and original art. With a style and voice that is uniquely her own, Kendra's designs are bright, original, cheerful and a little sassy. Each illustration provokes a conversation and is refreshingly unexpected.
In 2012, Kendra launched the brand Bouffants & Broken Hearts. Bouffants represents a sense of individuality, self-expression, and fun. Nothing about the brand, or the art, is conventional – the mix of patterns, colors, and subjects is original; designs are loud, and everyday life is reinterpreted in amusing ways.
Her unique and colorful patterns are licensed globally and featured on products including bedding, decorative pillows, tabletop, tech accessories, beauty packaging, stationery, and fashion accessories.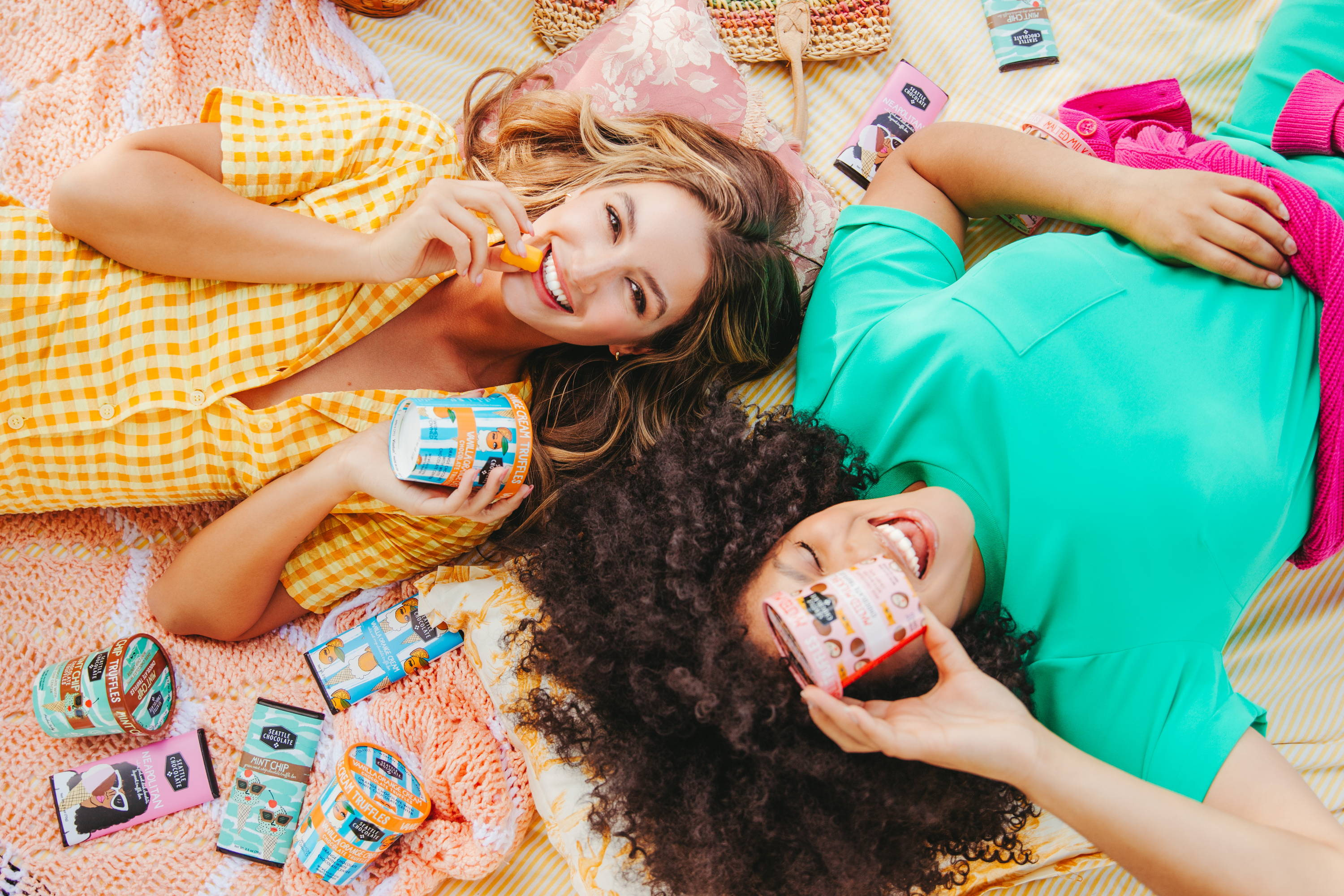 "Seattle Chocolate's Summer Scoops collection hits the spot."

– Food Network
"Seattle Chocolate nailed the simple, yet classic combination of zesty orange and velvety cream."

– Seattleite
"The perfect packaging to bring alternative "ice cream" to a picnic or camping trip, no freezer required."
– 425 Magazine
"It [Mint Chip] has a bold, strong, tangy flavor that awakens the taste buds, all the while making you feel wistfully connected to a carefree time when ice cream could solve all your problems."

– Seattleite