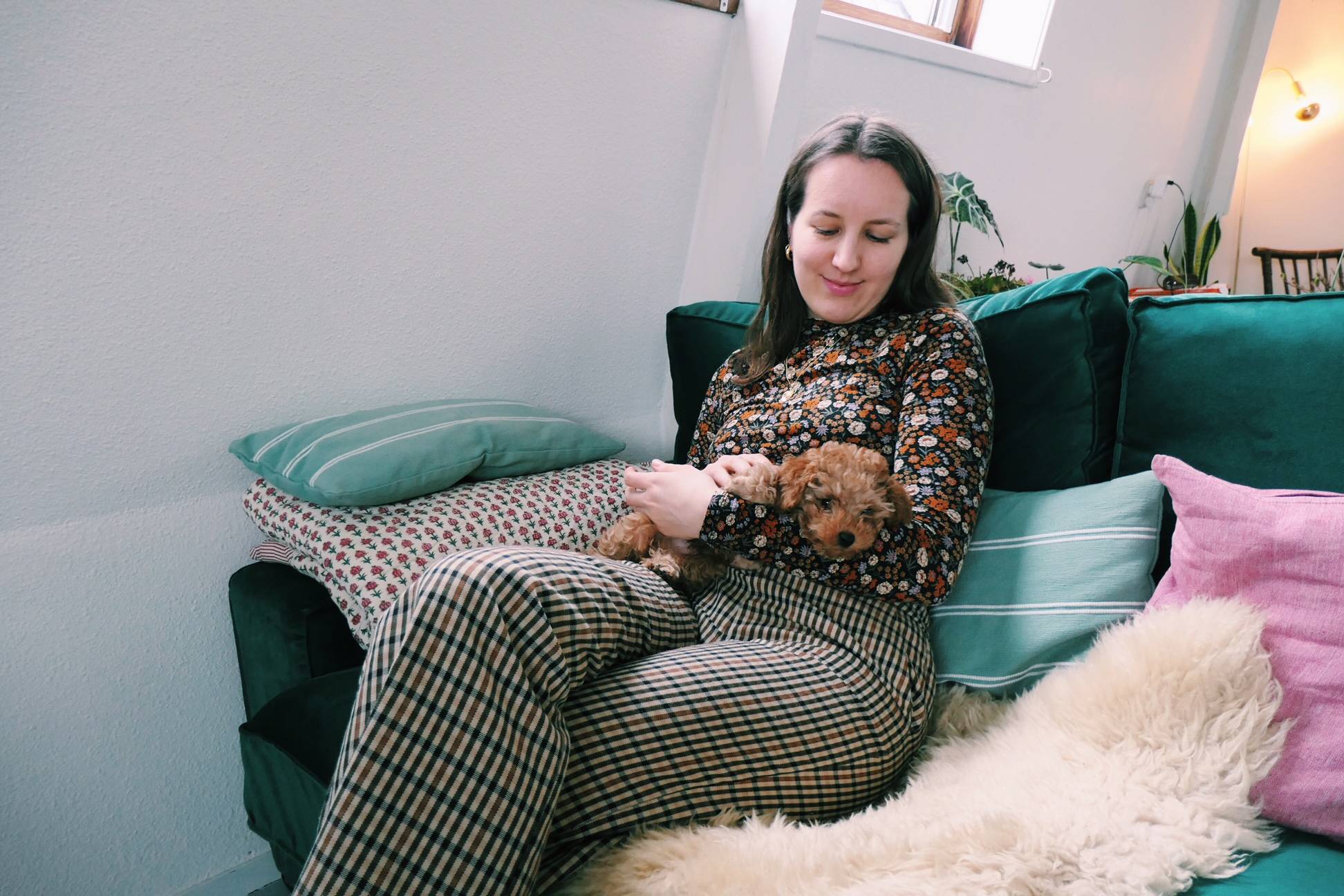 Dutch illustrator Bodil Jane works from a small mezzanine studio in Amsterdam-West where she creates vibrant, female-focused illustrations. She loves to depict women who are unapologetically themselves, taking inspiration from those she spots when biking around her hometown. Represented by Folio Art, Bodil strives to encourage diversity and positivity through her work.
---
"It's always a treat to work with and get to know artists who I've admired from a distance, and Bodil Jane is as delightful as she is talented. We selected Bodil Jane to illustrate our Sunshine bar and bag because her work is so vibrant, colorful, whimsical and uplifting; the perfect illustration for chocolate!"
- Jean Thompson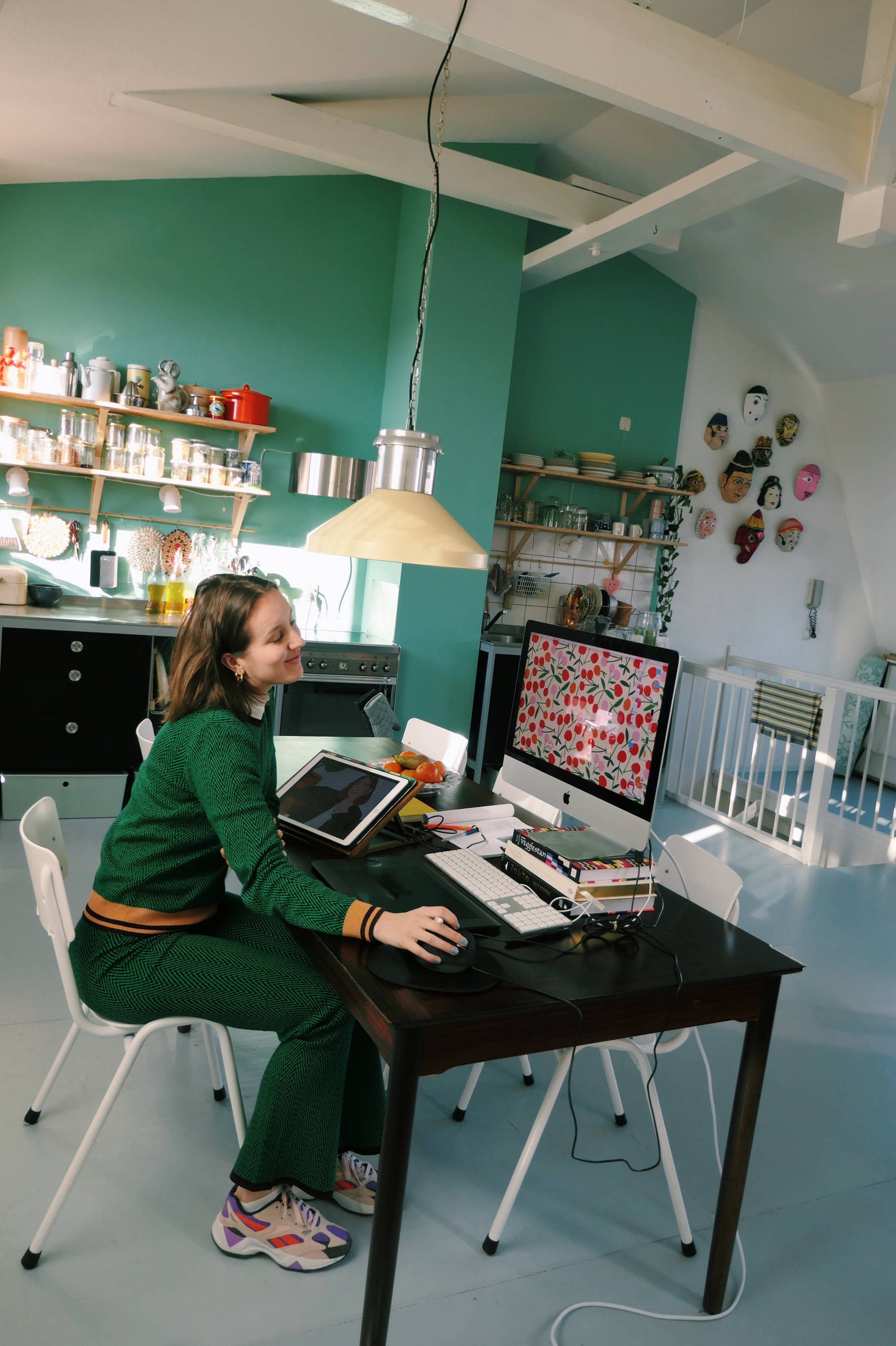 What do you hope people feel when they pick up this chocolate bar?
I hope they feel warm inside and can imagine the warmth of the sun shining on their face! I love that warm and positive feeling that the sun can give you, like all your worries are melting away. As a child, I spent all summer vacations in Portugal where my grandparents had a vacation home. I've spent so much time playing and lying in the sun, it gives me warm memories. When you grow up in a rainy country like The Netherlands you just really appreciate it. The Dutch certainly do; when the sun starts shining they basically run out of their houses and offices to sit outside.
What was your inspiration behind the design?
It was the first thing that came to mind! I've taken "You Are Sunshine" very literally. I wanted to depict where the sun's live: a cozy community full of dancing and happy sun's. Those iconic La Fonda del Sol matchbooks by Alexander Girard were definitely an inspiration for this design too. I love the colors and the retro vibe to it. I also looked at pre-space age images of the sun and stars: like a sun riding a horse, it's just fabulous.
Do you have a favorite chocolate bar flavor?
I love all kinds of chocolate, but dark chocolate (with anything else) is my favorite.
What is your favorite thing to do in the sun?
I'd say everything is better in the sun, but there are some particular situations that I enjoy: I like to take a folding chair from our basement and place it outside along the canal, watching the boats. I also love putting a little mattress on our roof terrace and read the newspaper.
Who would you give a 'you are sunshine' bar to?
To my sister, who is a ray of sunshine herself and loves everything sweet.
How was it collaborating with a chocolate company on the other side of the world?
Surprisingly easy! The team were so kind and lovely to work with. I think I've never had such a cozy first work video call ever before! I love how we wandered off and talked about poodles instead of only talking business. Even though it was short, I felt like they were actually interested in me and we got to know each other a little. I also felt like they really wanted to give me creative freedom with this project and they truly did. Some clients say that at the beginning of a project, but later on it turns out they actually have a lot of specific wishes.
Can you tell us more about the poodle in the design?
Probably this was inspired by our little poodle chat on the video call! Kirsty and Jake asked if I own a poodle because I draw so many. I told them I was about to get one soon. And then Jean showed me her poodle on the call and it was so adorable! I just felt like I had to incorporate a little poodle and I think it's so cute with the sunny head!